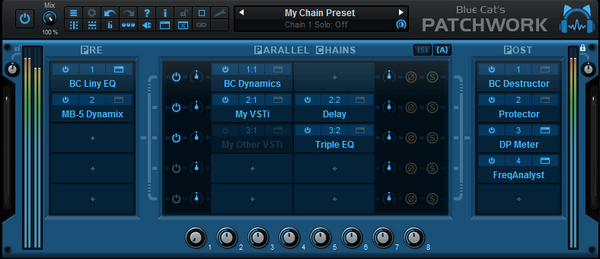 Effects can be connected in series or create up to 8 parallel chains that can be activated independently of each other. This allows you to create your favorite effects or instrument configurations within the plugin without the need for multiple buses. These configurations can be saved as presets and instantly recalled, or shared with multiple DAWs using any plugin format (full list below). Use the built-in sound effects to color your own plugin chains.
Despite the name, you can forget about wires or cables: configuring plug-in routing is as simple as adding or removing a row or column in a rack matrix. All plugins can also communicate with each other or with a host application using the virtual MIDI ports offered by the plugin.
Each plug-in slot provides delay compensation, preset management, undo/redo integration, audio input/output selection, and individual plug-in bypass for optimal performance. The plugin also saves the window position for each plugin so that the layout is restored during your session or saved with presets.
In addition, auxiliary plugins can be automated or controlled from external control panels using PatchWork Blue Cat's parameter mapping capabilities.
This product is available as an audio plug-in (effect or virtual instrument) and a standalone application, so it can be used on its own or inserted into any type of track in your favorite DAW using up to 16 audio channels.
Input and output level meters are also available to monitor the signal that is sent to the inserted plug-ins, including the sidechain and additional channels.
If you are looking for a host of multiband plugins for multiband processing, check out the Blue Cat MB-7 Mixer plugin . In addition, any Blue Cat Audio plug-in is compatibleand may be hosted in this software.
Click Additional Information
Changelog v2.52
New "network slave" mode to act as an audio/MIDI processing server for the Connector plug-in.
Presets can now be loaded via MIDI even when the user interface is closed.
Improved timing accuracy of MIDI events in the application.
Windows: The ASIO Control Panel can now be launched from the sound settings window in the application.
The audio engine can now be restarted from the sound settings window in the app.
Fixed an issue where the MPC Beat plug-in would not load.
Fixed an issue where the VST3 version would not always load correctly in Ableton Live 11.
Fixed latency compensation changes that were not always perceived by host applications.
VST3: Fixed problems updating settings in Studio One when bouncing tracks.
Blue Cat Audio - PatchWork v2.52 STANDALONE, VST, VST3, AAX x86 x64
Magnet Link
File Size 71.7MB
If it doesn't download automatically, click Download again. And if the link is broken, please report it in the comments field.