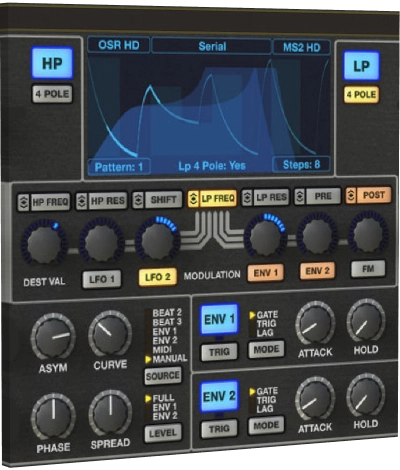 The Drop is an analog resonant filter plugin based on classic analog synth filters, as well as a completely new design. It uses the same high quality algorithms as circuit simulators, but is optimized for speed and has a great, fully scalable user interface.
Additional Information:

Ten unique circuits are mostly taken from emulated vintage synths: MS2 (Korg MS20 rev2); SMP (custom midway between Korg MS20 rev2 and OSCar); OSR (OSCAR); MS1 (Korg MS20 rev1); JPR (Roland Jupiter 8 or Juno 6); SHR (Roland SH2 or SH101) and PRD (Moog Prodigy). You may have noticed that there are only seven models on this list, but three more were added late last year: AMU (a custom design "inspired by the ARP Odyssey Mk I filter"); KSM ("Custom Input Design Mixing Sallen Key"); WSP (from EDP Wasp "with unique CMOS inverters").

Dual filter section with a Highpass followed by a Lowpass filter.
7 Highpass and 7 Lowpass circuit modelled filters from classic synths.
Loads of drive and character.
Full frequency range and perfect resonance tracking without oversampling so there is no delay for live use.
Huge amounts of resonance, also a resonance limit button for DJ use.
Two LFOs, one basic, one powerful with step sequencer for levels.
Two Envelopes / Followers, diode modelled, from input or sidechain.
FM from input or sidechain.
Stereo and Mono processing.
Cytomic The Drop 1.7.11 VST, AAX (x64)
Direct URL
File Size 18.2 MB
If it doesn't download automatically, click Download again. And if the link is broken, please report it in the comments field.