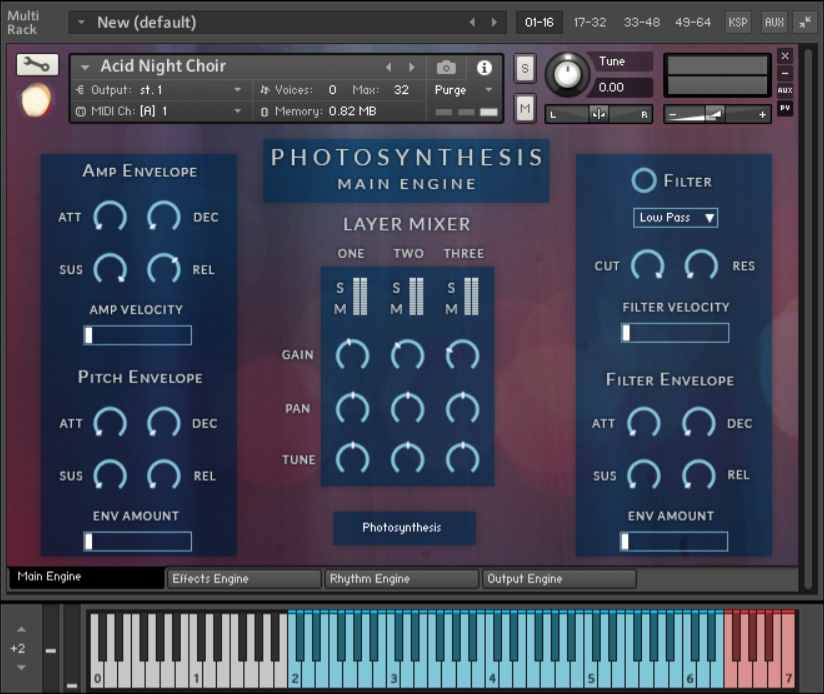 Touch The Universe proudly presents "Cloud Fields" for the Native Instruments Kontakt 7 sampler using the Exotic States Photosynthesis engine. The library contains 115 painstakingly crafted presets from over 200 individual sources and is suitable for all genres of modern electronic and ambient music. Almost every patch contains three levels of samples, so there are more sound sources than patches. In addition, each sound source uses a patch created by Touch The Universe, so the entire library uses completely original sources.

This is my first library for Kontakt 7 from Native Instruments, a company I've been a fan of for a long time. The library covers the vast sonic territory of ambient patches, including gorgeous soundscapes, ethereal choir pads, and pristine atmospheres full of exotic character to give your songs a calm, contemplative side. It also contains several ambient keys added to the mix.

I really enjoyed working with the Kontakt 7. It's a very different beast than Steinberg's Halion. I especially liked the Kontakts effects, which are really state of the art and have the ability to wildly transform original sounds.

Full version of Kontakt 7 required (will not play Konakt Player)

CLOUDFIELDS LIBRARY DETAILS

Includes 115 patches
Over 200 sample sources.
Approximately 1400 .wav samples in total
Weight 2.5 GB
All patches are volume normalized. (They are not clipped and have the same volume levels when scanned between presets)
Full version of Kontakt 7 required (won't play in Konakt Player)
Click Additional Information
INSTALLATION INSTRUCTIONS

To install the presets, simply unzip the archive named "Cloud Fields for Kontakt 7" to any location on your hard drive of your choice, preferably where other Kontakt libraries are stored. From there, find the folder in Kontakt Explorer, open the instruments folder and start selecting presets. That's all.

PATCH BREAKING
Choirs
Pads
Atmosphere
Soundscapes

ABOUT THE PHOTOSYNTHESIS ENGINE

The photosynthesis engine contains a main GUI page, an effects page, and a rhythm page.
Touch The Universe - Cloud Fields for Kontakt (KONTAKT)
Magnet & Direct URL
File Size 2.64GB
If it doesn't download automatically, click Download again. And if the link is broken, please report it in the comments field.